---
Human Capital Management
for Technology Services
Software companies and technology firms alike have been able to find top talent, hire fast, and get them up and running within their roles in no time with the help of cloud HCM solutions. With new innovations happening every day in this fast-paced industry, technology firms can't afford to be bottlenecked at any step of the way-especially in onboarding and recruiting.
HCM for technology services firms has also made adapting to largescale changes seamless and simple. Many organizations within the technology services field often experience large and sudden spikes in headcount during acquisitions and mergers. With cloud HCM, many organizations have been able to not only handle the administrative task, but complete the addition of new employees without ever adding any headcount to HR.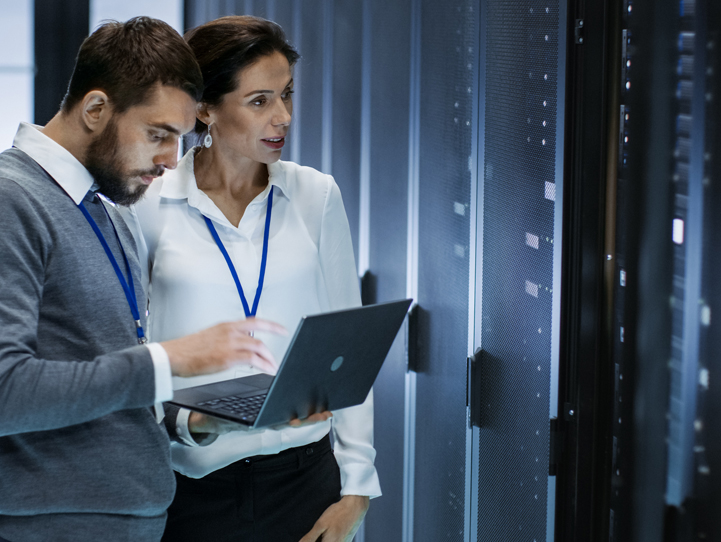 Ultimate Software gives you the tools and support to:
Efficiently accelerate onboarding and recruiting processes to get new employees up and productive within your organization's culture
Retain top talent with predictive analytics that provide actionable insights before employees quit
Support employee self-service with anytime, anywhere role-based access to important information, development opportunities, and training
Engage your multi-generational workforce with a rich, intuitive user experience on desktop and mobile
Incorporate flexible review processes that better fit with and emphasize your company culture

Because of UltiPro, we now can reassign a part-time person who coordinated some daily HR/payroll tasks to more critical activities…This is essentially like adding a new person to the company without the additional costs."
Tracy Waldrop,
Manager, Human Resources and Payroll - American Software
Customer Stories